Welcome to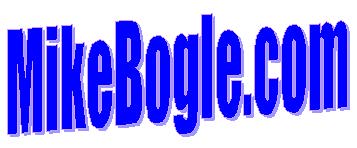 Purchase Mike's CD, Books and Big Band Charts NOW!

A versatile jazz musician, Mike Bogle was nominated for a Grammy Award in 1992 for his arrangement of Chick Corea's composition Got A Match? An accomplished pianist, keyboardist, conductor, programmer, trombonist, songwriter, vocalist, composer, and arranger, Dr. Bogle currently resides in Dallas, TX where he continues to create new music. Mike serves as musical director/arranger for Irene Cara; performs with a variety of jazz, R&B, rock, and experimental music groups; and finds time to mentor and teach inquisitive and talented students of music. Currently Mike is a Full Time Music Faculty member of Cedar Valley College in Lancaster, TX where he teaches MIDI I/II, Composition/Arranging/Orchestration, Keyboard Ensemble, and Theory I/II.

From 2004-2008, Bogle served in a variety of positions (Co-Chair of Performance; Chair of Professional Writing and International Programs; Head of Composition Department; Director of M Theory Ensemble, etc.) at the McNally Smith College of Music (formerly Musictech College) in Saint Paul.

From 1994-2004, Mike was the Director of Music Media and Technology and Associate Director of Jazz Studies at the University of Texas at Arlington. At UTA Mike taught Jazz Composition, Jazz Arranging, Improvisation, Big Band, Vocal Jazz, Jazz Combos, Recording Techniques, Music in Media, and Computers in Music. Mike Bogle's students have received awards from Downbeat Magazine and the National Association of Recording Arts and Sciences (NARAS) including Grammy Awards, Grammy Nominations and Downbeat Student Music Awards.

As Administrative Assistant for Lab Bands at the University of North Texas (UNT) from 1991-95, Dr. Bogle managed the famed One O'Clock Lab Band, after receiving his Bachelor's degree in Jazz Studies/Performance from UNT in 1987, and Master's in Jazz Studies/Performance in 1989, also from UNT. In 1978, Bogle attended the University of Miami School of Music on a performance scholarship and performed with the world renowned Concert Jazz Band. Mike culminated his formal academic studies with the completion of his Doctor of Musical Arts degree at UNT in the Spring of 2000. Dr. Bogle's thesis was entitled "Gunther Schuller and John Swallow: Collaboration, Composition, and Performance Practice in Eine Kleine Posaunenmusik."



Dr. Bogle's performance credits include: Doc Severinsen, Bobby Caldwell, James Moody, Slide Hampton, Jaco Pastorius, Ira Sullivan, Pete Christlieb, Duffy Jackson, Burt Bacharach, Dianna Ross, Tom Jones, "Mark Morganelli and The Jazz Forum All-Stars," The UNT One O'Clock Lab Band, The Sambuca Big Band and Latin American artists Willie Chirino and Lissette. Mike has recorded with many Latin groups in Miami including Tania Records, Gustavo Rojas, Willie Chirino, and El Grupo "Chequere." Dr. Bogle's musical talents and affiliations have taken him around the world to such locations as France, Portugal, Germany, Austria, Switzerland, Peru, Mexico, Puerto Rico, The Bahamas, and Canada.

Mike Bogle is a member of the National Academy of Recording Arts and Sciences (NARAS), International Association of Jazz Educators (IAJE), Minnesota Music Educators Association (MMEA), Texas Music Educators Association (TMEA), International Trombone Association (ITA), American Association of University Professors (AAUP), and the American Federation of Musicians (AFM).

For More Information, Please Contact:

Mike Bogle Productions
1028 Tarryall Dr.
Dallas, TX 75224


e-mail: dr.mike@mikebogle.com



   
---
Mike Bogle Productions Guest Book - Your Opinion Counts!

Please Click Here To Sign Our Guest Book
---







Download The Real Audio Player

McNally Smith College of Music

Are You Ready For The Mike Bogle Orchestra?

University of Texas at Arlington Jazz Orchestra

Jazz Education Network (JEN)

Purchase CD's and Books

Photo Galleries

The Zen Page

IAJE History



---